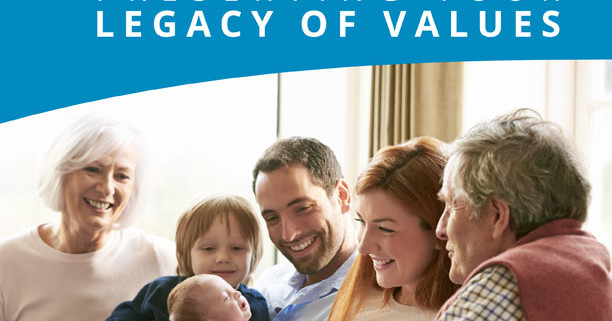 It has been fifteen years since the founding of Memoirs Productions. And just as we encourage all of our clients (and indeed everyone!) to take stock when reaching an important milestone, we too have taken this opportunity to reminisce about our journey and reflect on both where we have come from and where we are going.
Reflecting on Collecting
Putting together a collection of Memoirs' printed materials was a complete surprise as to the sheer volume of works and the related wisdom gained throughout the years. We discovered that  through knowledge and personal growth, we have refined and evolved our process of delivering our broadcast-quality productions with heart. It is now known to be our "blueprint for success" in the domain of preserving legacy.
As a result, we wanted to share the sum of our fifteen years experience with those who are like-minded. As part of the process of researching and writing our White Paper we collected our data from various sources. We gathered stories from the families, philanthropists and businesses we have worked with to use as case studies. We culled from our featured articles and columns (online and in print) relating to legacy while incorporating our speaking presentation materials. We reflected on the awards and professional acknowledgments we have been nominated for and/or received.
It was overwhelming, affirming and gratifying to see the sum of a life's work assembled in one publication, organized and distilled. We had produced Memoirs Productions' own Corporate Ethical Will~Legacy of Values, and are proud of it.
Looking forward
It has been our pleasure to work with visionary early adopters of our video ethical will process. They are the ones who have identified early on that the incomparable value that comes from the this form of communication with their next-gens, is highly complementary to their financial wills and personal legacies.
As ethical wills are being featured more and more in the mainstream press, our dream is that this trend continues so that everyone, both families and businesses, understands the value of and produce their own ethical wills, whichever way suits them best.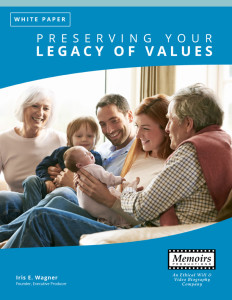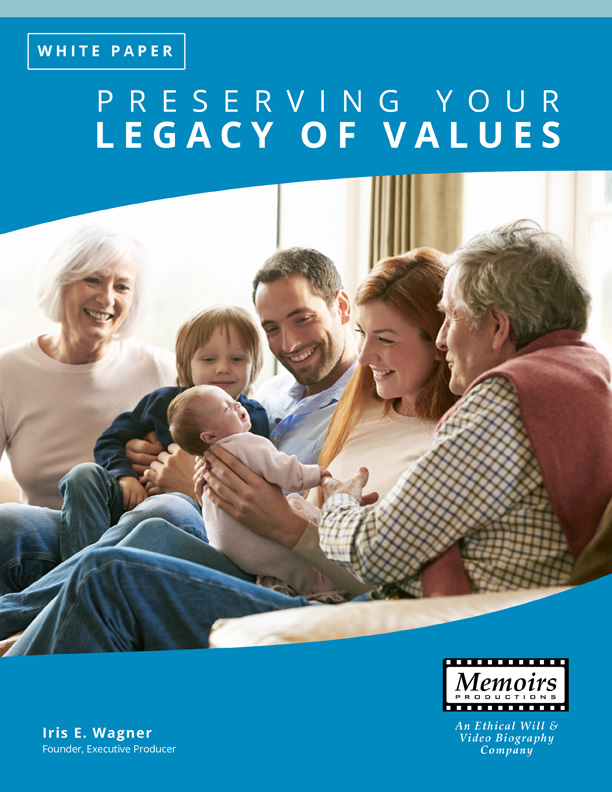 Our gift to you
At its core, the classic concept of creating an Ethical Will~Legacy of Values informs and affects lives. In celebration of our fifteenth year, we have transformed our own Corporate Legacy of Values into our White Paper, Preserving Your Legacy of Values, so that we might share the gift of our wisdom, knowledge and stories with those who are interested. We invite you to download your own copy by following this link.
Thank you for sharing our special journey with us to date.
Stay tuned, the best is yet to come!