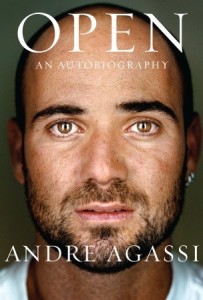 World renowned professional tennis player Andre Agassi was simply charming when he spoke at C2MTL, an international business conference held in Montreal I attended earlier this summer highlighting commerce and creativity. Agassi's talking points varied from his childhood and tennis career, covered in his 2010 bestselling book Open: An Autobiography, to his more recent philanthropic adventures in creating a charter school business model for disadvantaged students in his home town of Las Vegas.
The story of a remarkable life, Open is much more than a memoir of a tennis superstar. It explores how Agassi was often unhappy and unfulfilled despite his great on-court successes, and how he resented the sport that gave him fame and fortune. It clarifies that from birth to age 27, his life was entirely controlled by his moody and demanding father who instilled a relentless work ethic.
On Parenting
The interview at C2 took on the subject of his own parenting style. Father of two with wife Steffi Graf, Agassi explained he had made a conscious decision to parent his children differently from his own upbringing. He spoke passionately about how defining success is the first and most important decision you make as a parent.
Agassi defines his own vision of parental success as holding his kids accountable that "their days reflect the values and the things that they claim to love and want… that all their behaviors reflect what they claim. Don't tell me something's important to you – show me what's important to you…I'm interested in how they live and engage with their life" he says.
"I'll tell you when I stopped regretting anything as it links to my childhood," Agassi said. "It's when I get a chance to realize that I get to live and breathe my children's childhood…I get the luxury of teaching my kids the things I have learned to be from my father and teaching my kids the things I learned that I didn't want to be from my father." Now that's a true reflection on parenthood.
On Legacy
In 1994 Agassi founded the Andre Agassi Charitable Foundation which opened the Andre Agassi College Preparatory Academy in 2001 in Las Vegas and has an impressive 100% graduation rate. He has since taken the business model of the public charter school for at-risk children and created 65 more across the United States. He also has invested with entrepreneurial partners and is a board member of various businesses.
Although he retired from tennis in 2006, parenting, being an entrepreneur and devoting time to his foundation keep him more focused than ever. "What do I do in the morning? I get up and work."
Some things never change.