Arianna Huffington's daughter Christina is the creator and executive producer of the newly released Talk to Me project on the HuffPost blog. Endeavoring to become a movement, Talk to Me encourages children and their parents to do just that – talk to each other – with the added twist of broadcasting their conversations using Facebook Live.
When I learned about the project, which launched April 4th, my initial reaction was positive. What's not to like about parents and kids talking to each other and recording it for future generations? (That's what Memoirs is all about!) The more I thought about it though, the more I wondered about the "live" aspect. Sure, it's a fine way for Facebook to promote its new feature and a great collaboration between two media empires, but what did that have to do with private conversations between family members?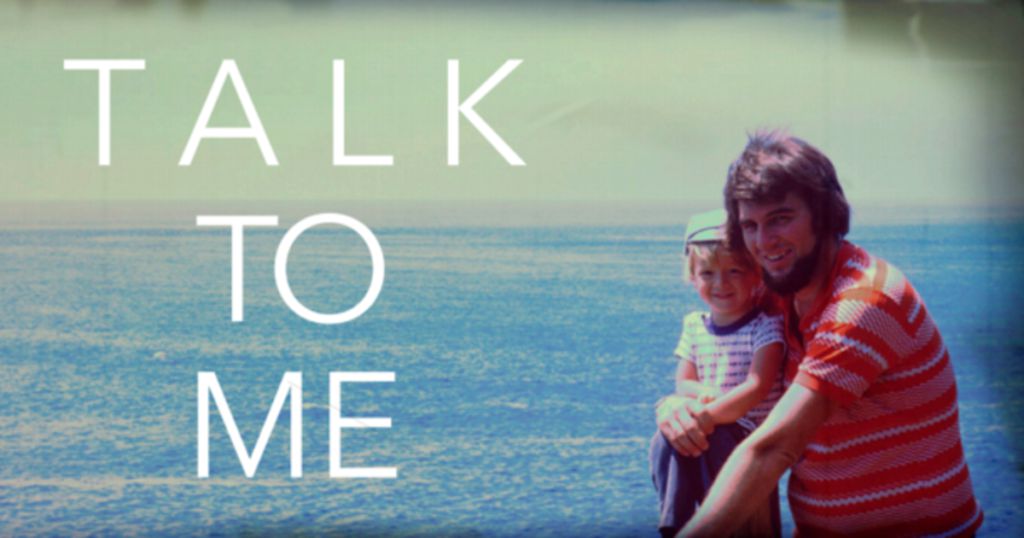 The Pros
Any encouragement for Millennials to lift their heads from their devices and engage in face to face conversation is wonderful. In a world where parents ask their kids what they want to eat for lunch using text messaging, sitting down face-to-face and asking meaningful questions (and getting meaningful answers) seems a rare occurrence. In fact, since the majority of us are less practiced when it comes to meaningful conversations, Talk to Me offers the same great list of questions that personal historians use to capture life stories and get the conversation rolling.
        • Tell me something you've never told me.
        • What do you know now that you wish you knew when you were my age?
        • Tell me the story of the happiest moment you've ever had.
        • What is the hardest challenge you've faced in your life?
        • What's the biggest lesson you'd like to pass onto future generations?
Although many celebrities such as Oprah Winfrey, Vin Diesel and Melinda Gates have posted their conversations, dozens of "regular" families have already participated as well. Using hashtag #TalkToMe and a promise to share their favorites, Huffington Post has featured several conversations on their website. Featured topics include sensitive areas like divorce, autism and LGBTQ equality. http://www.huffingtonpost.com/entry/favorite-moments-from-talk-to-me-series_us_57032680e4b0a06d5806bc6b
The Cons
It is clear that, through the lens of shared experience, the featured Talk to Me conversations revolve around topics whose discussions are of benefit to others. Listening to stories of struggles and discovering we are not alone – or better yet, gleaning insight and solutions to our own issues –  is a good thing.
Recording conversations with loved ones to be preserved for future generations to learn from is also a good thing.
If people have these conversations live, and post them for the world to see and share (using Facebook Live and the #TalkToME hashtag) the "sacred" project starts to lose personal and confidential value. In the digital era, where nothing seems off limits for an online post, aren't there certain conversations that should remain private?
In his book The Unwanted Gaze: The Destruction of Privacy in America, legal scholar Jeffrey Rosen examines the deep correlation between the time that it takes to get to know each other and the manner in which it is done. "True knowledge of another person is the culmination of a slow process of mutual revelation. It requires the gradual setting aside of social masks, the incremental building of trust, which leads to the exchange of personal disclosures. It cannot be rushed…In a world of short attention spans, privacy is necessary to protect us from the misjudgments that can result from the exposure of too much information as well as too little information."
Neither Pro Nor Con
Talk to Me, in essence, stands for everything that is beneficial about sharing important conversations with our families. Using social websites in this way has farther reaching consequences than intended. Video posting might be integral to online sharing– but the price of making private moments public may be too high to pay for 5 minutes of fame on Huffington Post.
We encourage you, as always, to have these conversations! And by all means record them and share with future generations of your family. If your children are still too young to engage meaningfully, you can always enlist the help of a personal historian to facilitate. Either way, strengthening the bonds between family members through the communication of stories and wisdom is well worth preserving.
What do you think? Should private family conversations be take place live on the internet?