Summer is here and with it come BBQs, pool and deck parties, and family reunions. Seize these long summer days and evenings as wonderful opportunities to celebrate a loved one before you 'have to'. We would like to propose an easy, fun way to take advantage of this time.
Around the table — or the campfire
It can be true that we mostly take the time to reflect on the qualities, experiences and legacy of loved-ones when grave health concerns arise or they pass away. But why wait? Sharing our thoughts and perspectives of cherished-ones may be more beneficial when we can do it together.
Seize the opportunity while around the picnic table or the campfire to celebrate an honoured attendee. Today we'll call her Gail. Explaining that the group is going to take turns sharing a memory, a quality or piece of wisdom they have learned from Gail. To begin the conversation ask questions like: What impact has Gail had on your life? What has she taught you? What do you admire most about her?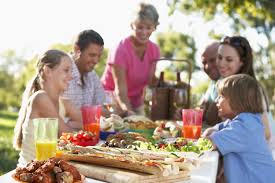 Gail, in the meantime, might be a bit uncomfortable. That's OK! Reassure her that she's loved and respected and also to just sit back, relax (if she can) and ENJOY! Place your smartphone with the voice memo ON and off you go!
Lead off the conversation yourself. This way, you can put people at ease before you pass the baton to the next person. Don't let anyone skip out! Even just a brief answer can be as meaningful or poignant as any longer story told.
You'll be surprised at how most people look forward to their turn to share. If someone gets tongue-tied, as may happen with younger children, gently guide them with questions. Ask them an alternative type of question such as, "Is it fun to hang out when Gail is around?". That way they're sure to feel included.
Trust us on this one
The trend of living funerals (also known as pre-funeral) is proof-positive that communicating what is meaningful is best done when you can tell someone directly and with purpose. Of course, that is not always possible. After leading this exercise with her extended family following her grandmother's funeral, a friend shared that she was repetitively thanked for starting the exercise, which created an opportunity for everyone to voice their love and lessons learned from Grandma.
Lightning round
Back to Gail. When everyone has spoken and the circle has come back to you, thank everyone and announce one final, speedy turn around the table. Depending on Gail's personality, invite everyone to share something "typical of Gail." Whether it's one of the dozens of sayings she likes to quote or is known to say, or a description of her most memorable outfit, ask participants to shout out their favorite. Get ready for some hearty laughter and don't be surprised if you wind up going up around the table twice!
Don't delay. Summer is almost over!
'Just because' is more than reason enough to get the stories told and recorded.